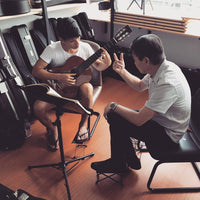 Music Courses
There are various ways to learn an instrument in our present time. From videos to online classes, at the end of the day there will always be a limit to how much you can get out of self learning. The music team at Mahogany relates to this problem and we want to help you learn more.
Pick up the right techniques from our experienced and professional staff. Our teaching background goes way back during Mahogany's early stages and we are confident that we can help you achieve a higher level of learning. Whether you may be an advanced guitar player to just starting out for the first time, we will progress along with each and every student to teach you further.
we provide a wide range of courses and you get the chance to learn different types of instruments depending on what your preference is from our music staff.