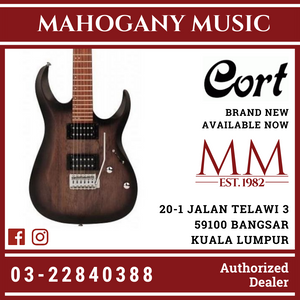 Cort X-100 Open Pore Black Burst Electric Guitar
Regular price RM950.00 MYR Sale
MERANTI BODY The Meranti used in the body is a wood with sound-like mahogany-like characteristics. The midsection is rich and strong, and it does not lose its presence even when it is combined. In addition, the weight is light, so anyone can play comfortably.
POWERSOUND PICKUPS Powersound humbucker pickup set developed by Colt. Boasts a sound faithful to the original classic humbucker sound. By operating the three-stage pickup selector and tone control, you can create sounds that suit a wide variety of genres.
6-SCREW VINTAGE TREMOLO It is a vintage style tremolo bridge that is attached to the body with six screws. It is a simple and stable structure that employs the original Strat method as it is.
ERGONOMIC BODY CONTOUR It is a body contour designed with ergonomic aspects in mind. It gives a modern and extreme feeling of metal guitar, and it enables dynamic performance even on high frets.
HARDMAPLE NECK Necks are made of hard maple, creating a more punchy and balanced sound. We finished with matte feeling of smooth feeling which gives soft grip. 24 JUMBO FRETS This is the 24 most popular jumbo frets on the original Super Strat. It ensures stable sound even at high positions that use violent playing and treble.